A Glimpse into Jim Thorpe
Nestled in the scenic landscapes of Pennsylvania, Jim Thorpe is a small town with a big reputation. Known for its rich history, stunning architecture, and natural beauty, this town offers a unique blend of attractions catering to various interests.
Located in the Lehigh Valley region, the town is surrounded by the Pocono Mountains, making it a picturesque destination that captivates visitors with its charm and tranquility.
Jim Thorpe is not your typical small town. It's a place where history, culture, and nature converge, offering a distinctive experience that leaves a lasting impression. The town's Victorian architecture, winding streets, and historic sites transport visitors back in time, while its vibrant cultural scene and outdoor activities provide modern-day entertainment.
This article explores the various aspects that make Jim Thorpe popular. From its famous landmarks and noteworthy events to its culinary specialties and influential industries, we'll uncover the unique offerings that make this town a must-visit destination.
The Town's Claim to Fame
Jim Thorpe is renowned for several reasons. Here are some of the key factors that contribute to its fame:
Historical Significance: The town is named after Jim Thorpe, a Native American sports icon, and his final resting place is here.
Architectural Beauty: Known as the "Switzerland of America," the town boasts beautiful Victorian architecture.
Outdoor Activities: With its location in the Pocono Mountains, it offers a plethora of outdoor activities.
Cultural Scene: The town has a vibrant cultural scene with numerous festivals, theaters, and museums.
Culinary Delights: Jim Thorpe is known for its unique culinary offerings, from traditional dishes to innovative cuisine.
Exploring Jim Thorpe
Here are some activities you can indulge in when visiting Jim Thorpe:
Outdoor Adventures: Hiking in Lehigh Gorge State Park, biking on the D&L Trail, and whitewater rafting on the Lehigh River.
Cultural Experiences: Attending a concert at the Mauch Chunk Opera House, visiting the Old Jail Museum, and exploring art galleries in the downtown area.
Historical Tours: Visiting the Asa Packer Mansion, exploring the Eckley Miners' Village, and taking a scenic train ride on the Lehigh Gorge Scenic Railway.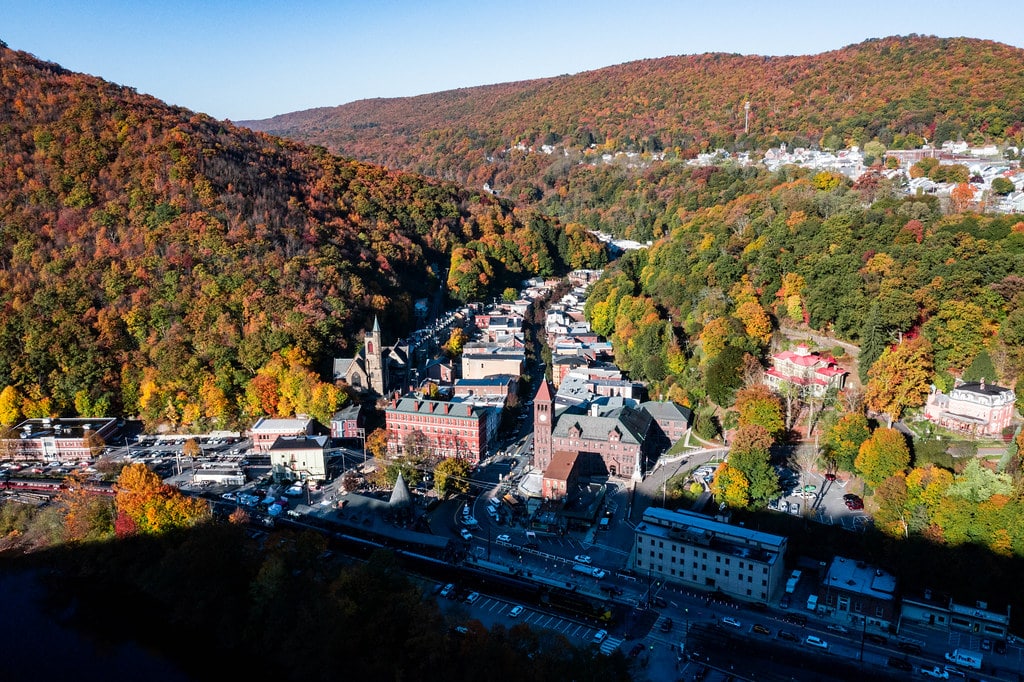 Landmarks that Speak Volumes
Jim Thorpe has several landmarks reflecting its rich history and architectural grandeur. The Asa Packer Mansion, a well-preserved Victorian home, offers a glimpse into the life of the influential railroad magnate and philanthropist Asa Packer.
The Old Jail Museum, another significant landmark, is known for its eerie history and the infamous handprint on the wall that, as local lore goes, cannot be removed.
These landmarks and others like the Mauch Chunk Opera House and the Eckley Miners' Village are integral to the town's identity. They narrate the town's past and add to its aesthetic appeal, making them must-visit sites for any visitor.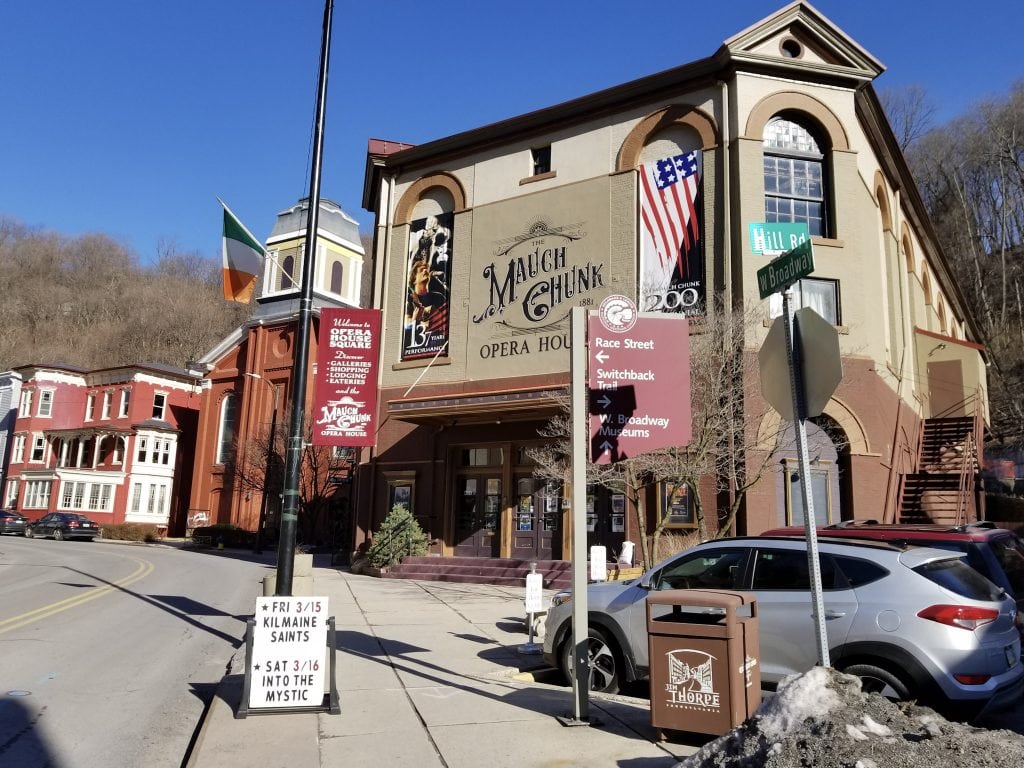 Celebrations that Define the Town
Jim Thorpe hosts several events and festivals highlighting its vibrant culture and community spirit. The annual Fall Foliage Festival celebrates the town's stunning autumn landscapes, while the WinterFest showcases ice sculptures, winter-themed activities, and more.
Events like the Jim Thorpe Independent Film Festival and Mauch Chunk Opera House concerts further enrich the town's cultural scene.
These events, steeped in tradition and local customs, are integral to the town's identity. They offer visitors a chance to immerse themselves in the local culture and experience the town's festive spirit.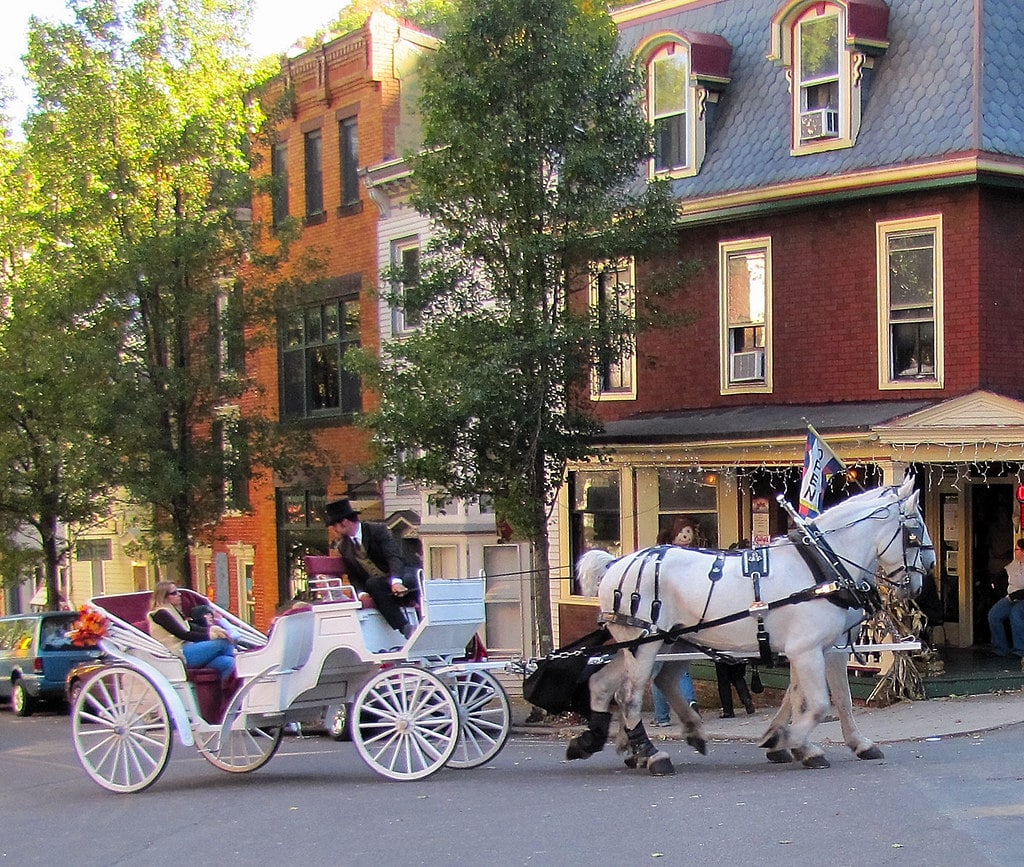 A Taste of Jim Thorpe
Jim Thorpe's culinary scene is as diverse as its other offerings. The town is known for its traditional Pennsylvania Dutch cuisine, with dishes like scrapple and shoofly pie being local favorites. It's also home to several renowned restaurants and food markets that offer a variety of cuisines, from classic American to international fare.
These culinary offerings add to the town's appeal, providing a gastronomic experience that complements the town's visual and cultural feast.
A Cultural Hub
Jim Thorpe's cultural scene is vibrant and diverse. The town has several theaters, museums, and art galleries that showcase local talent and offer various cultural experiences.
The Mauch Chunk Opera House, a historic theater, hosts a variety of performances, from concerts to plays, while the Anita Shapolsky Art Foundation displays a collection of abstract art.
These cultural institutions play a significant role in the town's popularity, offering visitors a chance to experience the local arts scene and engage with the town's cultural heritage.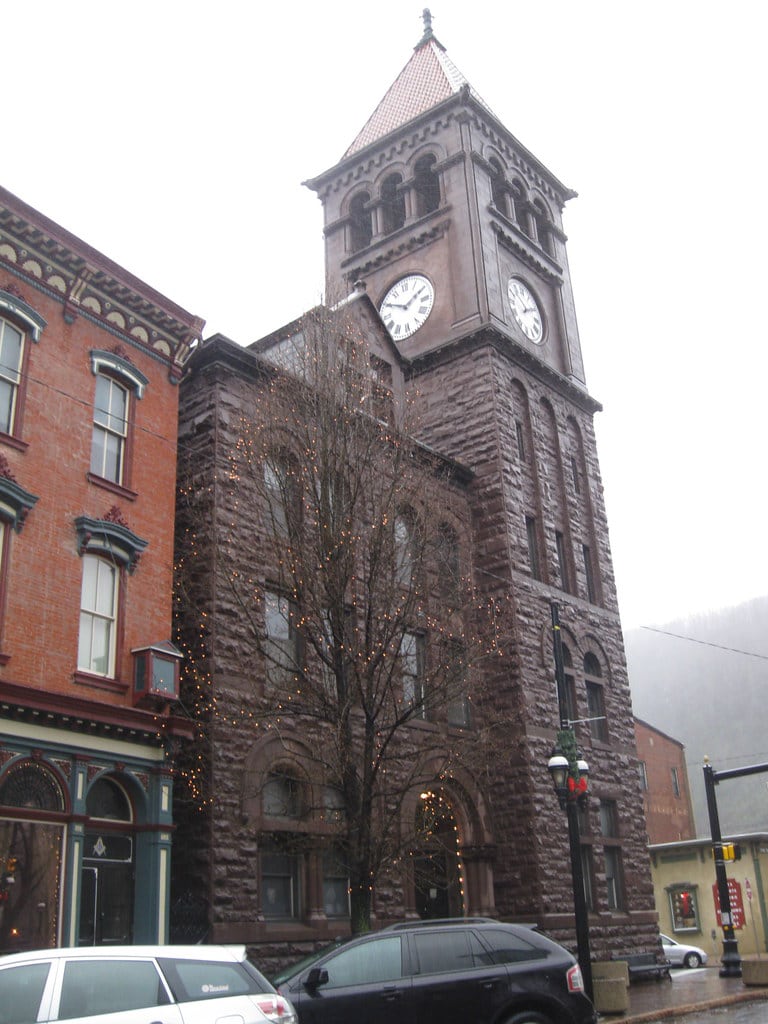 Industries that Drive the Town
Several industries shape Jim Thorpe's economic landscape. Tourism is a major industry driven by the town's historical sites, outdoor activities, and cultural events.
Other significant industries include retail, with numerous shops and boutiques in the downtown area, and hospitality, with various accommodations catering to different visitor preferences.
These industries contribute to the town's economic growth and enhance its reputation as a popular destination, offering a variety of experiences that cater to different interests.
Personalities that Add to the Fame
Jim Thorpe is the final resting place of its namesake, Jim Thorpe, an Olympic athlete and professional football player. His achievements and contributions to sports have added to the town's fame. Other notable personalities include Asa Packer, a prominent figure in the railroad industry, and Harry Packer, known for his contributions to the wine industry.
These personalities have left their mark on the town, contributing to its history and reputation.
Frequently Asked Questions
What is the best time to visit Jim Thorpe?
Jim Thorpe can be visited any time of the year. However, the Fall Foliage Festival in October offers a unique experience with the town's landscapes adorned in autumn colors.
What outdoor activities are available in Jim Thorpe?
The town offers a variety of outdoor activities, including hiking, biking, and whitewater rafting, thanks to its location in the Pocono Mountains.
What are some must-visit sites in Jim Thorpe?
Some must-visit sites include the Asa Packer Mansion, the Old Jail Museum, and the Mauch Chunk Opera House.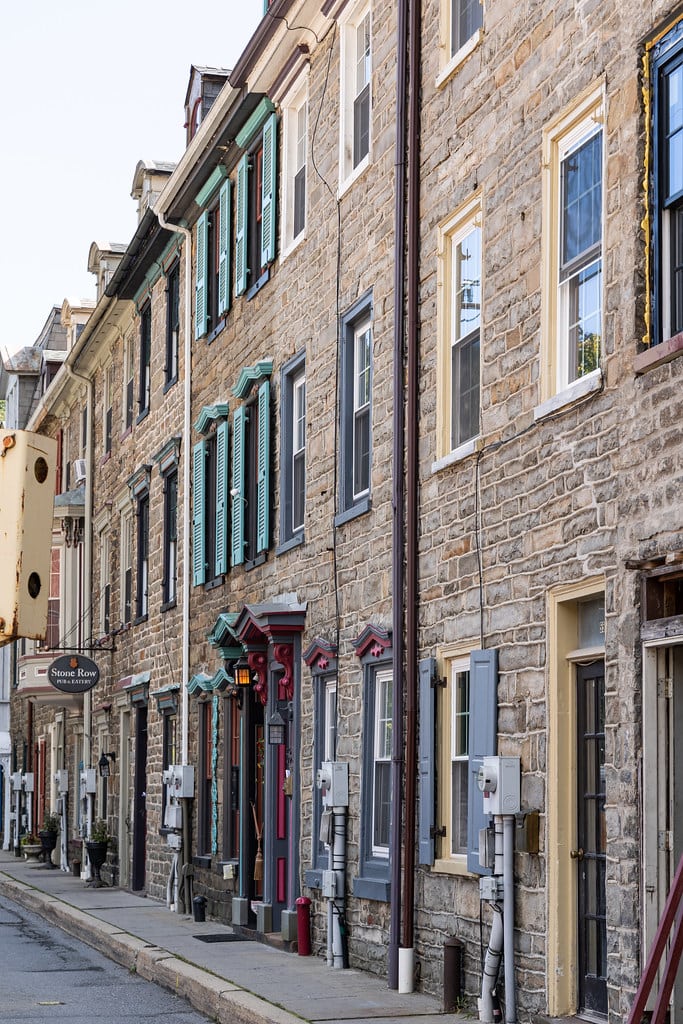 Wrapping Up the Journey
In conclusion, Jim Thorpe, Pennsylvania, is popular for its rich history, architectural beauty, vibrant cultural scene, and diverse outdoor activities.
From its famous landmarks and noteworthy events to its culinary specialties and influential industries, the town offers a unique blend of experiences catering to various interests. So, if you're looking for a destination that offers a mix of history, culture, and nature, Jim Thorpe is the place to be.
The Origins of Mayview State Hospital In the late 19th century, the City of Pittsburgh took a monumental step in mental health care by establishing Mayview State Hospital. Initially known as Marshalsea Poor Farm, the facility opened in 1893. Located in South Fayette Township, Pennsylvania, it was initially spread over 243 acres and could accommodate…