Top Tourist Attractions in Wyoming USA
Wyoming might not be the first state to mind when planning a vacation, but you'll miss out if you don't stop by a few of these top tourist attractions. And no, not all of these are located in Yellowstone. Wyoming is the least visited state in America—but it's got some pretty cool stuff.
There are hundreds of sightseeing options in Wyoming. Some people enjoy the natural splendors of Yellowstone National Park and Grand Teton National Park. Others take in the centuries-old history of Fort Laramie and Fort Warren. You can find outdoor activities across Wyoming, from Jackson Hole to Devil's Tower to Green River. Anyone visiting Wyoming for the first time will have difficulty deciding where to go and what to see.
Each of the attractions on this list has something to offer tourists, and they're all worth checking out if you're ever in the area. Whether you're looking for a thrilling adventure or a scenic escape, Wyoming is home to some amazing natural wonders.
10 best places to visit in Wyoming for your next vacation
Is there anything fun to do in Wyoming?
Fortunately, other cities in Wyoming are more well-known for their attractions. Cheyenne, for example, has an excellent zoo and botanic garden and an off-track betting facility with 35 horse betting windows. Laramie is home to the University of Wyoming, making it an excellent place for outdoor enthusiasts. And if you're looking for a great camping trip, try Big Piney's White Acres Campground—it has all the amenities you need to enjoy your time in the great outdoors without any hassle!
What is the number one attraction in Wyoming?
The most visited attraction in Wyoming is Yellowstone National Park. Located in southwestern Wyoming, it covers nearly 3,500 square miles and boasts countless attractions for visitors to enjoy, including geothermal wonders, breathtaking views, and the park's famous wildlife.
What is Wyoming best known for?
Wyoming is best known for Yellowstone National Park. It is the country's first national park and a tourism landmark, boasting hundreds of thousands of visitors every year. The Grand Teton National Park is also located in Wyoming and is one of the most desirable spots to hike, bike, or ski in America.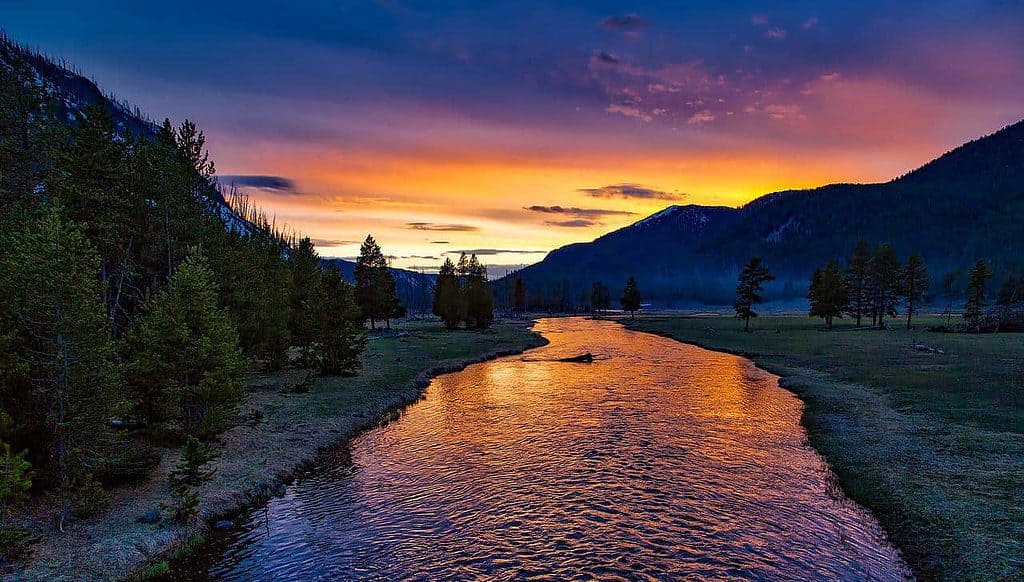 Is Wyoming worth visiting?
Wyoming is worth visiting for its incredible variety of beautiful natural vistas and historic sites. It's got a lot to offer for travelers, whether vintage train rides or hiking trails are your things. And if you're into skiing? Well, Wyoming has the biggest ski resorts too. So yes, Wyoming is worth visiting if you're into outdoor activities.
Why should I visit Wyoming?
If you want to get away from the hustle and bustle of the city, this is the destination for you. Wyoming is a state that is full of natural beauty. There are plenty of things to do in Wyoming, with fishing and hunting being the most prominent activities. If you have been looking for a place to visit that's different from anywhere else you have visited in your past travels, make sure to include this as a place on your list as it offers some authentic western experiences that you won't find anywhere else around the country.
Why is Wyoming the best state?
Wyoming has the best combination of natural beauty, a stable and robust economy, a reasonable cost of living, and world-class recreational opportunities. When I crunch the numbers, Wyoming emerges as a top contender based on our available metrics to live and work in. While there are other states with this list of qualities, what puts Wyoming at the top is that it has all these things in one place.
Where is the prettiest place in Wyoming?
Your personal opinion will likely vary due to different things that make a place pretty. The prettiest place in Wyoming is Grand Teton, National Park. The picturesque sights of the Tetons are breathtaking and should be admired.
What is the best time to visit Wyoming?
The best months to visit Wyoming depend significantly on the type of trip you plan. If you have your heart set on backpacking, it's likely a good idea to travel between June and September. If you plan to go fishing, it's best to visit during the early spring or late fall.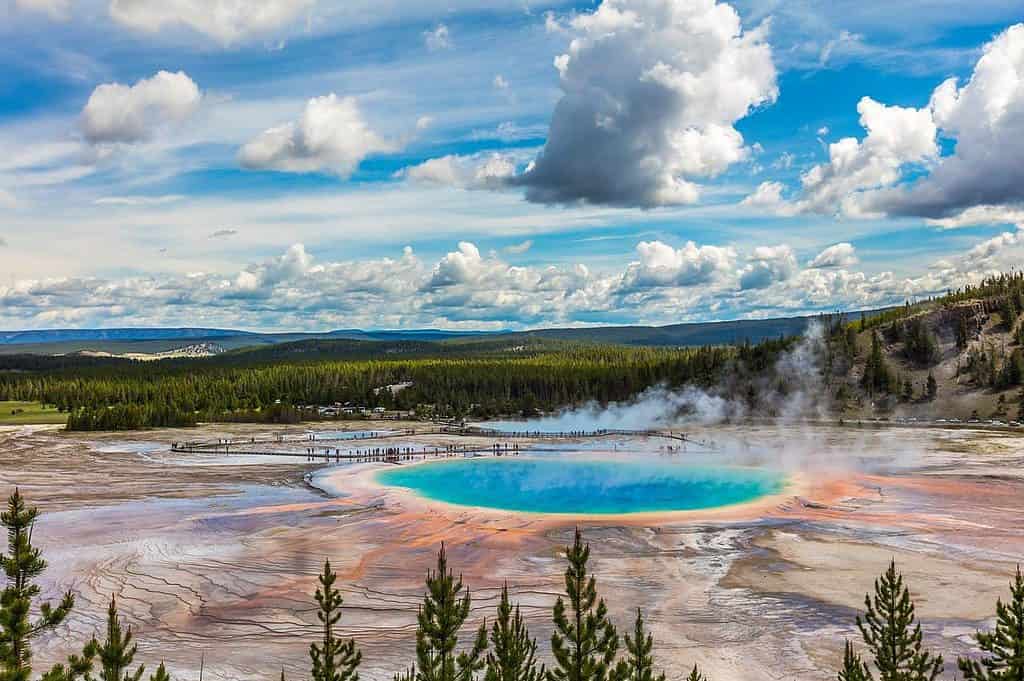 How close are Yellowstone and Grand Teton?
Yellowstone and Grand Teton National Parks are located in Wyoming and only about 30 miles apart. However, this road has a lot of twists and turns and is only open during the summer months.
What celebrity lives in Wyoming?
These celebrities have a property and spend some time in Wyoming:
Kim Kardashian
Kanye West
Brad Pitt
Harrison Ford
Uma Thurman
Tiger Woods
Matthew McConaughey
Sandra Bullock
Pippa Middleton
What are 3 interesting facts about Wyoming?
Wyoming is the least populated state in the US, with 576,000 people.
WY is home to the most concentrated population of bald eagles in the continental US.
Once upon a time, Wyoming was a site for nuclear testing.
Does it snow in Wyoming?
It frequently snows in the higher mountain ranges and over the state's northern tip. The snowy season typically begins in October and ends in April. As for the long answer, the state averages about seven to eight inches of snow annually, but this varies since precipitation levels are pretty moderate overall.
Is Wyoming Safe?
Yes, Wyoming is safe. As it turns out, Wyoming has the seventh-lowest violent crime rate. That's less than half of what Wyoming had twenty years ago, and they're working towards making their state even safer yet.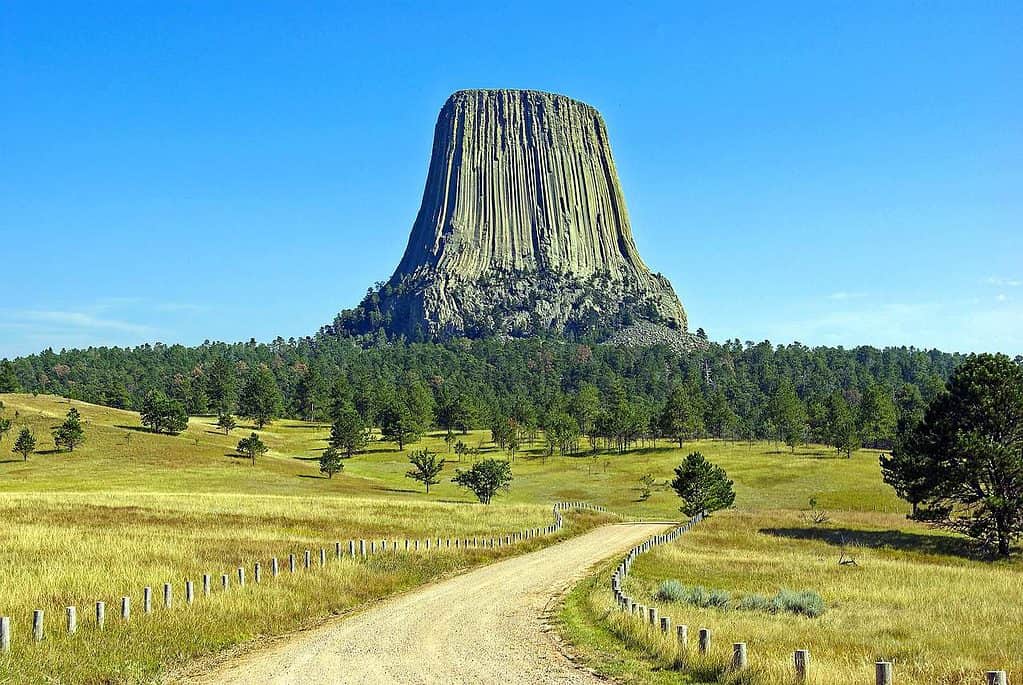 Is it cheap to live in Wyoming?
Wyoming is one of the least expensive states to live in, but some areas still cost more than others. Bozeman and Casper are very affordable, and Cheyenne, Jackson, and Laramie (the state capital) are relatively inexpensive.
Is Wyoming beautiful?
Wyoming is indeed a beautiful state. The mountains and wide open spaces are breathtaking – and this is reflected in the tourism numbers. Wyoming is one of the most beautiful states in the country, with awe-inspiring landscapes, gorgeous parks, and delightful towns.
Does Wyoming have mountains?
Yes. Wyoming has mountains and a decent amount of them to boot. Mountain ranges make up about 40 percent of the state's land area.
How cold is Wyoming in the winter?
Winter in Wyoming is very cold. Typically, the average low during December in Cheyenne, the capital of Wyoming, is -16 degrees Fahrenheit or -26 on average. The average high for that month is 16 degrees Fahrenheit or 47 degrees on average.
Summary
Wyoming is home to numerous national, state, and historical sites, from Yellowstone National Park (the first National Park in the world) to Devil's Tower (the legendary site in Close Encounters of the Third Kind). This is a state of the Wild West, from historic ghost towns to the magnificent scenic beauty of the Rocky Mountains. Wyoming has a little bit of everything and is an excellent place for family vacations.