A Trip Down Memory Lane
Southridge Mall has a long and storied history spanning over four decades. Located in Des Moines, Iowa, the mall opened on October 15, 1975, and has been a community staple ever since. It's hard not to feel nostalgic when thinking about the countless memories made here over the years.
Southridge Mall was once a bustling shopping center, boasting a total retail floor area of about 870,000 square feet and an impressive 46 stores and services as of the summer of 2011. Anchored by major retailers like Sears, Younkers, and Party City, the mall was a shopping destination for locals and visitors alike.
Unfortunately, the mall has faced its share of hardships over the years, with several anchor stores closing their doors and leaving vacant spaces behind. These include the closure of Younkers in 2018, Sears in 2016, and Party City at an unspecified date.
The mall has also faced stiff competition from newer shopping centers like Jordan Creek Town Center and Merle Hay Mall, which has led to a decline in occupancy rates.
Despite these challenges, the mall has adapted and evolved, with current anchor stores Target, Marshalls, Shoe Carnival, and Ross Dress for Less continuing to serve the community. And while the mall has seen better days, resilient spirit and ongoing transformation give hope for a bright future.
The Evolution of Southridge Mall
Over the years, Southridge Mall has undergone several significant changes, both in terms of its tenants and its physical appearance. Some key moments in the mall's history include:
The opening of Montgomery Ward as a third anchor in 1978.
The addition of the Richman Gordman department store in 1982.
In 1992, Target joined Southridge Mall as its fifth anchor store.
The closure of Richman Gordman in 1992 and its replacement by JCPenney in 1994.
Montgomery Ward closed in 1999, with its space remaining vacant until its demolition in 2006.
JCPenney's closure in June 2011.
In addition to these changes, the mall has seen a shift in management and ownership. In 1984, General Growth Properties sold Southridge to the Equitable Life Assurance Society as part of a real estate investment trust liquidation.
In March 1998, a partnership between Simon Property Group and Macerich acquired Southridge Mall as part of a larger 12-mall deal, with Macerich overseeing the property's management.
A New Beginning: Renovations and Repurposing
To revitalize Southridge Mall, renovations began in 2012 to convert most of the mall into outdoor-facing retail spaces. This process involved the demolition of 296,000 square feet of retail space, making way for new stores like T-Mobile, Shoe Carnival, Foot Locker, and Rue 21.
The mall has also found innovative ways to repurpose vacant spaces, with Des Moines Area Community College opening a satellite campus in the former JCPenney building and a consignment shop called Value Villa taking over the space once occupied by Steve & Barry's.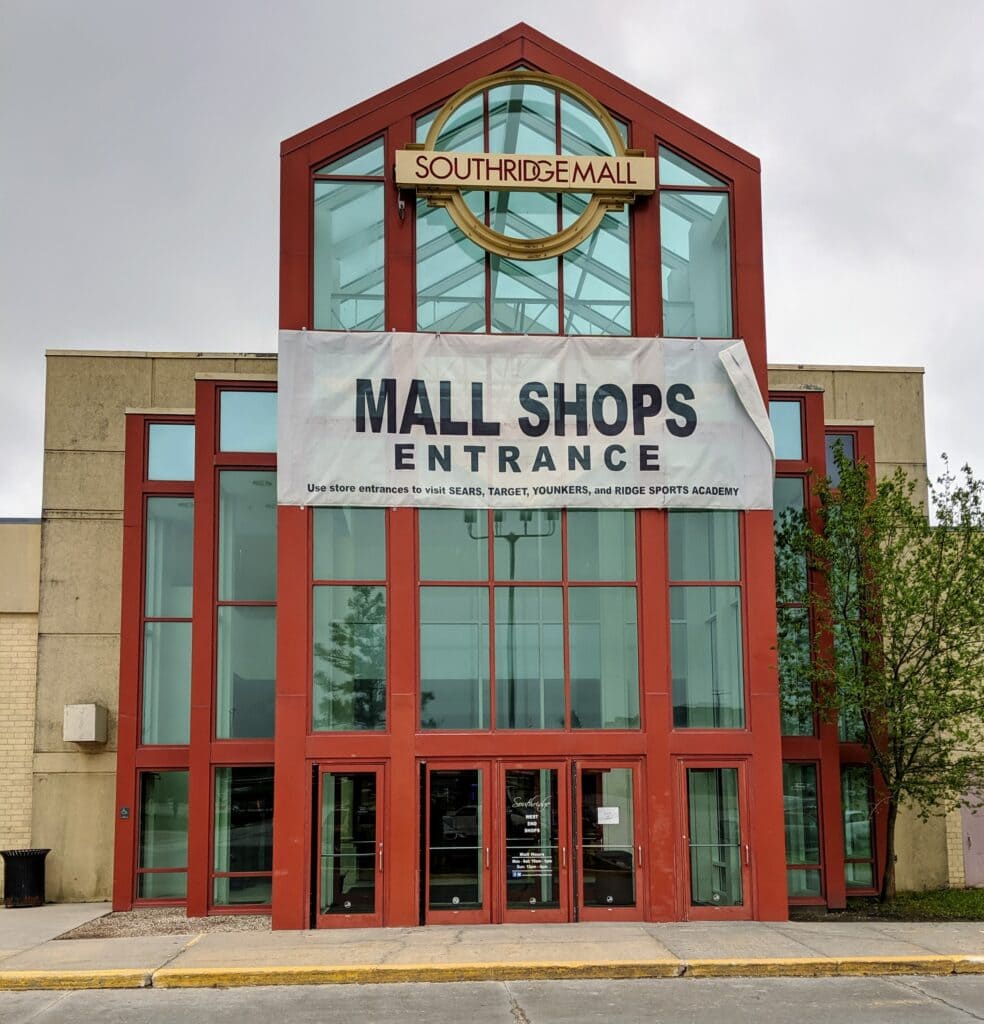 Furthermore, the mall's surrounding area has seen significant development, with two housing projects adding 334 units and UnityPoint constructing a medical clinic on a vacant lot on the mall's east side.
A former retail building has also been converted into an outpatient clinic for veterans. In addition, Bank of America is building a new branch office and a portion of the mall that once housed Sears is being redeveloped into an athletic club and multisport facility.
Recent Developments
In January 2023, the 12-screen theater owned by AMC Theatres permanently closed its doors.
In February 2023, plans were announced for a 90-unit senior housing project west of the mall, where Montgomery Ward once stood. This $13.7 million project will span 4.4 acres.
As of May 2023, online auction service NativeBid Auctions is purchasing the former Younkers store as part of a $2 million project. The 100,000-square-foot building had been vacant since Younkers closed in 2018.
NativeBid, primarily auctions off returned furniture and home goods, began renting the building and moved its DSM operations there about a year ago. The purchase agreement is set to become final in the coming weeks.
The recent developments at Southridge Mall show that while the mall has faced challenges, it continues to adapt and find new ways to serve the community. As a result, Southridge Mall is a relic of the past and a vital part of Des Moines' future.
Conclusion
Southridge Mall has been a staple of the Des Moines community for decades. While it has faced many challenges, its ongoing transformation and adaptability have ensured it remains a vital part of the community.
The mall's storied past and promising future make it a beloved destination for locals and visitors alike. Its unique blend of nostalgia and innovation ensures that it will continue serving the people of Des Moines for years.