Welcome to a captivating journey through the life of Chapel Hill Mall in Akron, Ohio.
Imagine a place that has witnessed the ebb and flow of retail trends, economic shifts, and cultural transformations.
From its inception in the 1930s to its current state in 2023, Chapel Hill Mall is a shopping center and a vibrant chronicle of Akron's community and commerce.
Let's embark on this journey to explore the mall's storied past, its challenges, and the new horizons it's set to explore.
Chapel Hill Mall, more than just a shopping destination, is a living narrative of Akron's growth, adaptation, and resilience.
Origins of Chapel Hill Mall
Once upon a time, nestled in Akron, Ohio, Chapel Hill Mall began its story.
Not just a retail space but a landmark rooted in history. In the 1930s, a young Richard Buchholzer stumbled upon what seemed like a Native American council circle on his father's land.
This discovery inspired the name "Chapel Hill," likening the circle to a spiritual chapel. Once a beacon of indigenous culture, the land set the stage for a retail revolution.
The mall's name, "Chapel Hill," is a homage to the land's ancient history, intertwining modern commerce with timeless tradition.
During the Great Depression, J.J. Buchholzer, Richard's father, owned a Hower's department store in downtown Akron.
He foresaw Akron's expansion northward and envisioned another store on his land. However, a shift in vision led to the idea of Akron's first climate-controlled shopping mall.
By 1963, plans were in motion, setting the stage for a new era of shopping experience.
Timeline of Major Events at Chapel Hill Mall
| Year | Event |
| --- | --- |
| 1967 | Chapel Hill Mall opens |
| 1988 | Expansion plans considered for Higbee's store |
| 1994 | Food court and retail expansion added |
| 2004 | The mall was sold to CBL & Associates Properties, Inc. |
| 2015 | Sears at Chapel Hill Mall spun off to Seritage |
| 2016 | Macy's closed the store |
| 2016 | Kohan Retail Investment Group bought the mall |
| 2017 | Sears closed its store |
| 2020 | JCPenney closed the store |
| 2021 | Industrial Commercial Properties purchased the mall |
| 2021 | Chapel Hill Mall permanently closed |
Construction and Early Years
Fast forward to 1966, a year before the mall's grand opening, and a few pioneering stores like Gray Drug Stores, JCPenney, and Sears had already opened their doors.
These early birds set the tone for what was to come.
The pre-opening of stores in 1966 gave a sneak peek into the future of shopping in Akron, sparking excitement and anticipation.
On October 12, 1967, Chapel Hill Mall officially opened, marking a significant milestone in Akron's retail history.
This wasn't just another shopping center; it was a beacon of modernity and innovation in the heart of Ohio.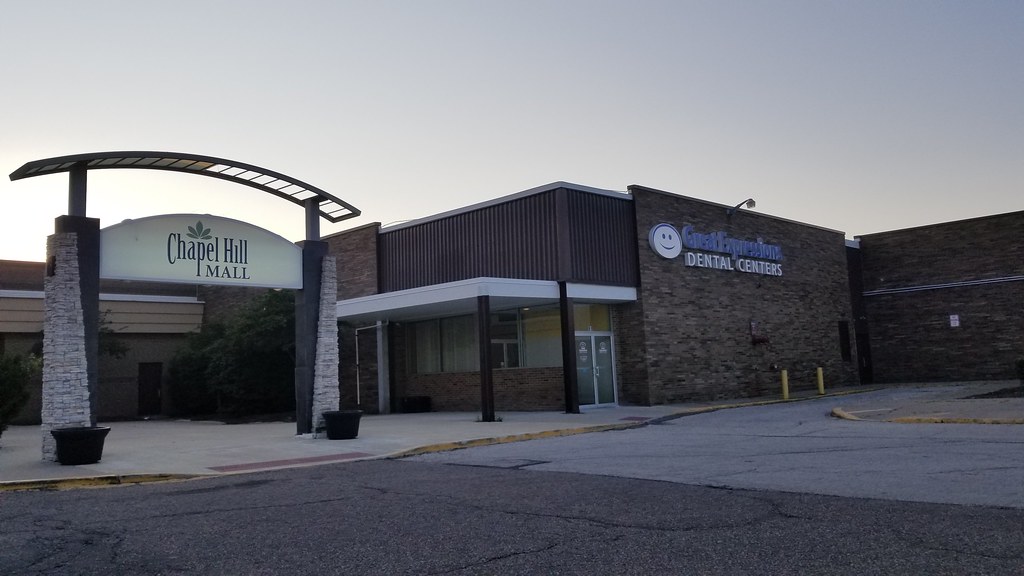 Expansion and Renovations
Chapel Hill Mall wasn't content with standing still as the years passed. In the late 1980s and early 1990s, expansion was the buzzword.
Plans to include a Higbee's store and additional retail space were in the air. In 1988, a significant expansion plan surfaced, proposing a 90,000-square-foot addition.
The mall was set to grow, not just in size but in offerings, too.
By 1994, the mall had undergone significant renovations, including a new food court, retail expansion, and aesthetic enhancements like new flooring, ceiling tiles, a fountain, and modern lighting.
This rejuvenation brought a fresh vibe to the mall, keeping it relevant and exciting.
Ownership Changes and Challenges
Ownership changes often bring new visions, and Chapel Hill Mall was no exception. Buchholzer and Forest City Enterprises managed the mall until 2004 when it was sold to CBL & Associates Properties.
They, in turn, held the reins until 2014. But the real change came in 2016 when Kohan Retail Investment Group took over, aiming to revitalize the mall amid declining tenancy and store closures.
The ownership changes at Chapel Hill Mall reflect the evolving nature of retail, adapting to changing times and consumer needs.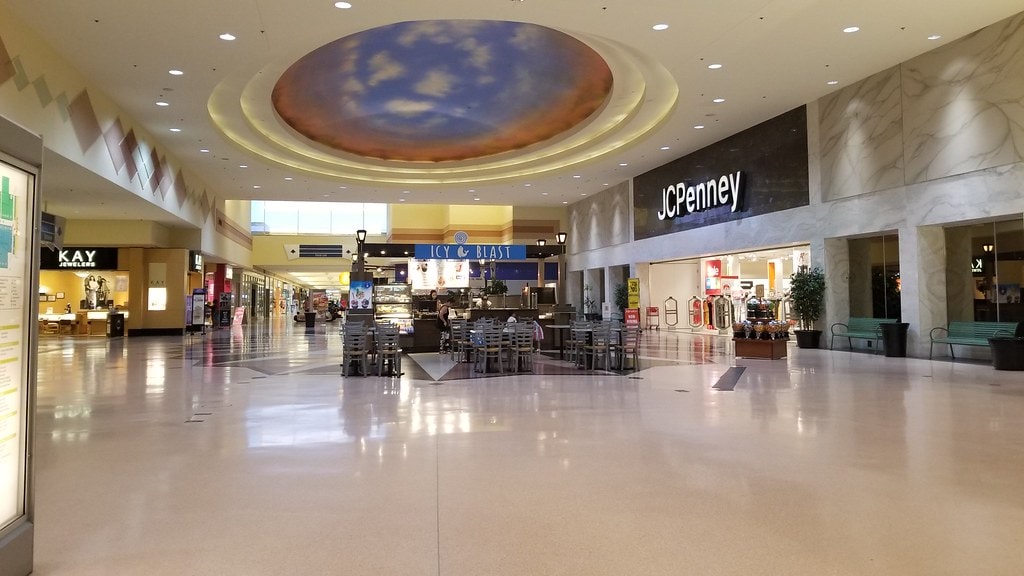 The Downfall of Chapel Hill Mall: A Timeline of Financial Woes
Chapel Hill Mall's decline was marked by financial challenges and store closures that signaled its eventual downfall.
The first significant blow came in March 2016 with Macy's closure, citing poor holiday sales.
Kohan Retail Investment Group's purchase in July 2016, aimed at revitalization, couldn't stem the tide.
In 2017, Sears closed its store; by 2018, a significant portion of the mall's storefronts lay vacant.
Financial distress escalated with impending utility shutoffs in 2019 and 2020 due to unpaid bills, leading to discussions of foreclosure by Summit County.
In 2020, Kohan faced a legal complaint and a foreclosure notice for substantial unpaid bills, including back taxes.
This financial strain was compounded by the closure of JCPenney, the mall's final anchor store, in 2020.
The purchase of the property by Industrial Commercial Properties in 2021 for $7 million, with a portion allocated to settle debts, came too late.
At this point, the mall was operating at a significantly reduced capacity, with only a fraction of its stores occupied.
The culmination of these financial struggles led to the permanent closure of Chapel Hill Mall in April 2021, ending its era as a retail destination in Akron.
Redevelopment and Future Plans
In a twist of fate, akin to a phoenix rising from the ashes, Chapel Hill Mall embarked on a path of transformation in 2021.
Industrial Commercial Properties (ICP) swooped in to acquire most of the mall's structures, envisioning a new future for the site.
With an investment of approximately $20 million, the plan was to convert this once-retail paradise into a light industrial business campus.
The redevelopment of Chapel Hill Mall symbolizes a shift in the retail landscape, adapting to the evolving needs of modern commerce.
This redevelopment wasn't just a change in purpose but a complete metamorphosis in design and utility.
The interior and exterior would undergo extensive renovations, including a staggering $6 million investment in landscaping and greenery.
This transformation was supported by the city's rezoning efforts and tax-increment financing, showcasing a collaborative attempt to reinvent the space.
Transformation to Chapel Hill Business Park
The main building now houses Driverge, Craft33, and Quantix businesses. While a few smaller office spaces remain unoccupied, the repurposed parking lot area has attracted tenants like Firestone.
The development plans for this site are ongoing, including constructing a new, independent building adjacent to the original mall structure, signifying the area's shift from retail to a diverse business hub.
A Glimpse into the Future
Today, in November 2023, Chapel Hill Mall is surrounded by dense residential and business areas, poised to serve as a hub for light industrial ventures.
Once a symbol of retail magnificence, the site now stands as a beacon of industrial innovation, ready to write its next chapter in Akron's story.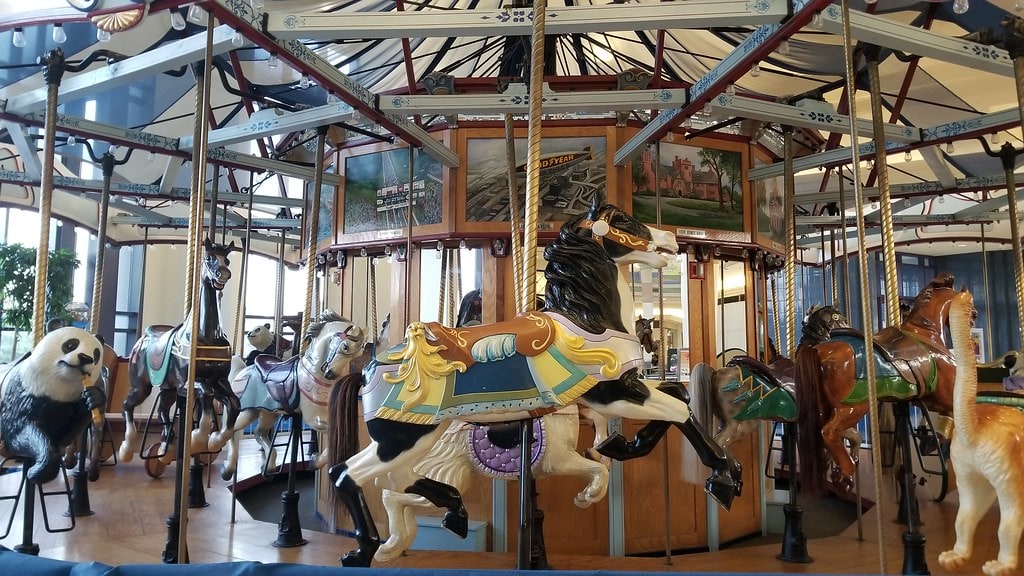 Chapel Hill Mall Carousel
The carousel inside Chapel Hill Mall was not just a merry-go-round but a piece of art and a symbol of joy for visitors.
Manufactured by Carousel Works, it opened in 1994, adding a whimsical charm to the mall's atmosphere.
This carousel was a new addition, crafted by Carousel Works of Mansfield, Ohio, known for their expertise in carousel creation.
The carousel boasted 30 animal figures and two chariots, offering a delightful ride to children and adults alike.
It was a centerpiece in the mall's 1995 food court addition, blending entertainment with dining.
The carousel's intricate designs and the joyous experience it offered made it a beloved attraction in the mall.
Following the mall's closure, the carousel found a new home at Lock 3 Park in Akron.
Archie the Talking Snowman: A Cherished Christmas Tradition at Chapel Hill Mall
Chapel Hill Mall in Akron, Ohio, was not just known for its shops and carousel but also for a unique Christmas attraction: Archie the Talking Snowman.
Standing twenty feet tall, Archie became a beloved figure for generations of Akron children, symbolizing the joy and magic of the holiday season.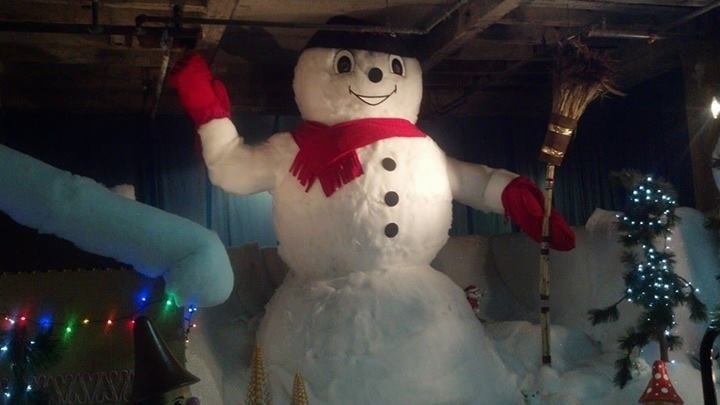 The Charm of Archie
Archie, a typical three-ball snowman with buttons, a scarf, a top hat, and a straw broom, was more than a festive decoration.
He was a part of "Archie Land," or the Snow Village, a Christmas wonderland with pine trees, candy canes, twinkling lights, animatronic animals, and a magical atmosphere.
Inside a cottage, an adult, using a speaker and microphone, would voice Archie, engaging children in interactive dialogue.
This unique feature made Archie a memorable and cherished part of Akron's Christmas celebrations​​.
Archie the Talking Snowman's story is not just about a holiday attraction but a community's love for a tradition that brings joy, wonder, and a sense of unity.
His history, dating back to the early Christmas attractions in downtown Akron, showcases the evolution of holiday celebrations in the city and the lasting impact such traditions can have on a community​​.
Conclusion: Chapel Hill Mall – A Legacy Reimagined
The mall's journey from a bustling retail hub to an industrial campus mirrors the broader shifts in society's needs and preferences.
In 2023, Chapel Hill Mall is not just a physical space; it's a symbol of change, adaptability, and foresight.
It stands as a reminder that places, like people, evolve with time, and their true essence lies in their ability to adapt and reinvent themselves.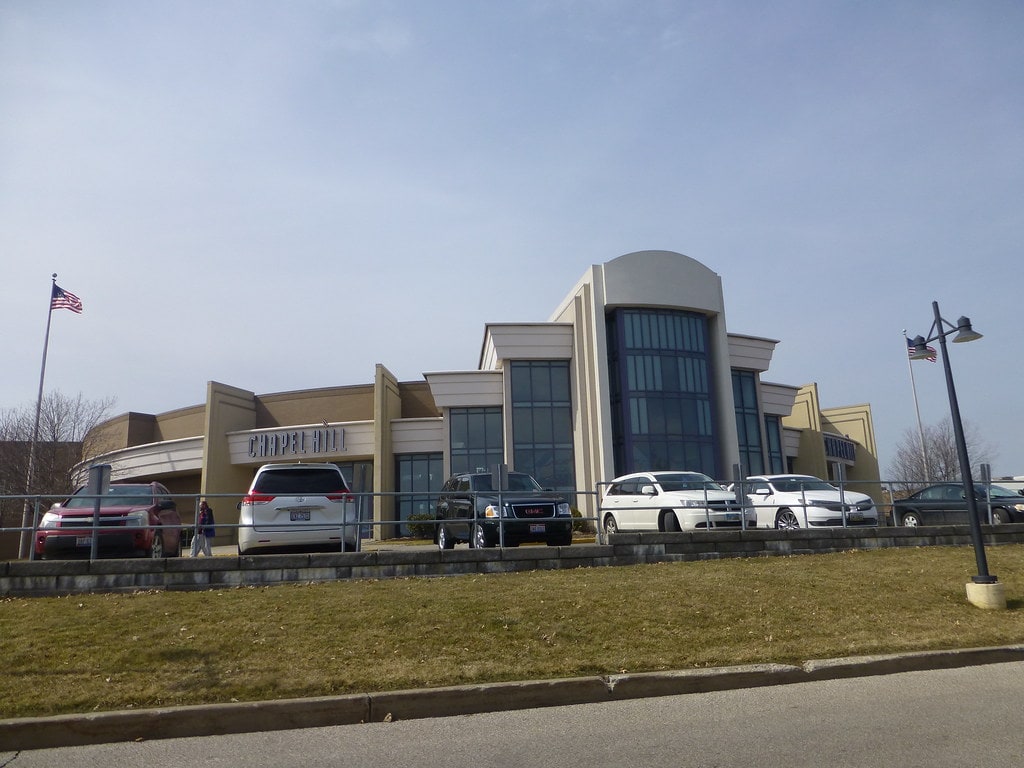 The transformation of Chapel Hill Mall is a powerful reflection of Akron's resilience and forward-thinking spirit, showcasing a community's capacity to adapt and thrive amidst change.
In this ever-changing world, Chapel Hill Mall remains a significant landmark in Akron's history, a beacon of the past, and a harbinger of future possibilities.
As it embarks on its new journey, it continues to hold a special place in the hearts of Akron residents, symbolizing not just a place of commerce but a cornerstone of community life and progress.