The Rise and Fall of DeSoto Square Mall
To adapt and stay competitive in the late 1990s and early 2000s, DeSoto Square Mall made some changes, including establishing a food court and introducing new stores that catered to families and offered discounted products.
Unfortunately, these efforts were insufficient, as consumers began to lose interest in traditional indoor malls and turned to other retail options.
The mall's decline continued over the years, with many stores closing their doors and leaving vacant spaces throughout the building. Eventually, on April 30, 2021, DeSoto Square Mall officially closed its doors for good, leaving behind only one remaining anchor store, Hudson's Furniture.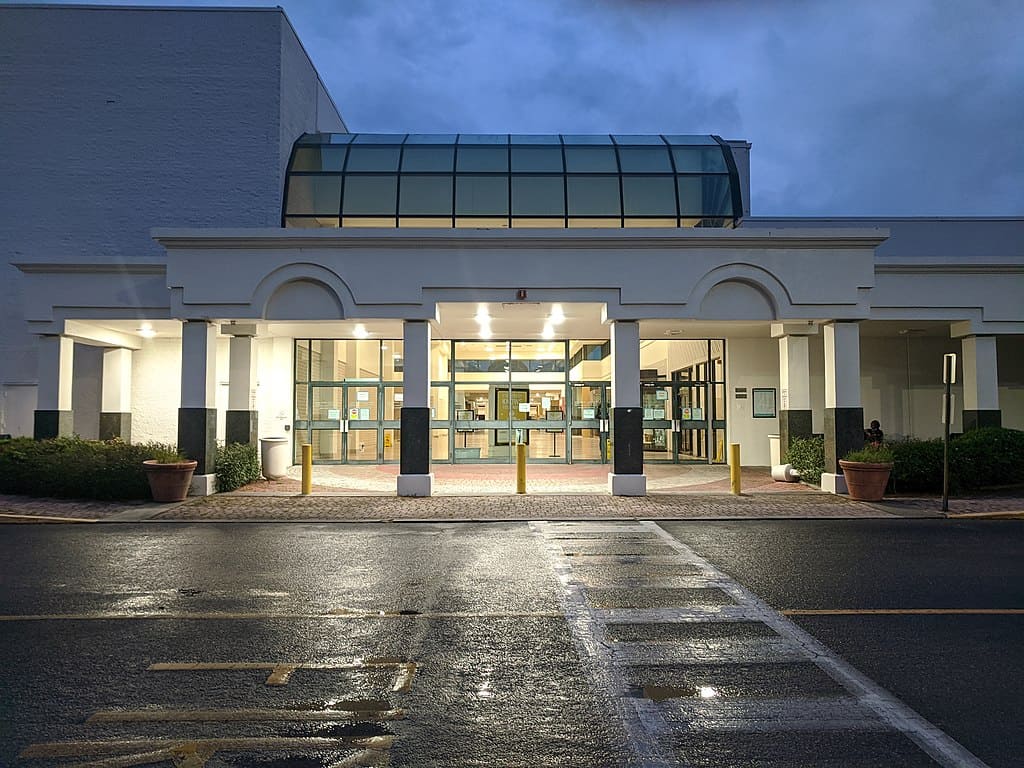 Anchors
| | |
| --- | --- |
| Maas Brothers/Burdines/Macy's | 1973–2014 |
| Sears | 1973–2019 |
| JCPenney | 1974–2020 |
| Belk | 1979–1992 |
| Dillard's | 1992–2009 |
| Hudson's Furniture | 2014 – … |
DeSoto Square Mall's Beginnings
In 1971, Bradenton Mall Corporation purchased 100 acres of land along US 301 and Cortez Road for $1.6 million from 32 property owners. This would become the future site of DeSoto Square Mall.
However, Bradenton's mayor at the time, A.K. Leach, was concerned about the mall's impact on downtown retailers, given its location outside the city limits. Nonetheless, he remained optimistic that they could manage through the changes.
Construction of the mall was undertaken by the Edward J. DeBartolo Corporation and was completed in 1973. Initially, the mall was to be called Bradenton Mall, but city officials deemed it unacceptable due to its location outside city limits.
In response, the DeBartolo Corporation changed the name to DeSoto Square Mall, with a spokesperson stating that it would better identify with the local community, given the annual DeSoto Celebration.
History and Development of DeSoto Square Mall
DeSoto Square Mall opened its doors on August 15, 1973, with 37 shops open and 47 more expected to open soon. The mall's grand opening was a significant event for the community, and shoppers were excited to explore its offerings.
The mall was anchored by three pre-planned department stores: Sears, JCPenney, and Maas Brothers. However, JCPenney's opening was delayed until January 1974.
During the mall's initial opening, Piccadilly Cafeteria was among the first restaurants to open, and it remained a popular spot until May 2003.
Cafeterias were a common feature of shopping malls at the time, but food courts eventually replaced them. In addition, a Montgomery-Roberts department store was added to the mall in November 1973.
In February 1976, the mall received a visit from future U.S. president Ronald Reagan while he was campaigning for office. In June 1979, Belk-Lindsey was added as the mall's fourth anchor store.
Evolution of DeSoto Square Mall
Burdines showed interest in opening a store in 1979 but only joined the mall in 1991 when it merged with Maas Brothers. In 1992, Dillard's bought Belk-Lindsey's store in the mall.
During the late 1980s, there was talk of adding a food court, which finally came to fruition in April 1997 with the opening of Port O'Call. However, not all restaurants in the mall relocated to the new food court. For example, the Old Navy was added to the mall in 2000.
In 2004, Burdines was renamed Burdines-Macy's, and in 2005, the Burdines name was officially dropped, and the stores were merged into Macy's.
However, the mall began to decline in 2009 due to the struggling economy, and several stores, including Old Navy, Foot Locker, Waldenbooks, and the Dillard's anchor, closed. The Old Navy space was transformed into a family entertainment center called Saturn 5 in 2010.
Transformation of DeSoto Square Mall
In May 2012, Simon Property Group announced plans to sell the mall, and in November of that year, Mason Asset Management acquired it for $25 million. Macy's announced its store closure in July 2014 and relocated to the mall at the University Town Center.
In March 2017, Meyer Lebovitz, a New York-based company, purchased the mall from Mason Asset Management for $25.5 million. Lebovitz owned DeSoto Owners LLC and chose Madison Properties USA LLC to redevelop and lease the mall.
After Hurricane Irma hit Florida, FEMA used the mall as a disaster recovery center. In January 2018, a new retail store and auction house named "Your Treasure House" opened on the first floor of the former Macy's location.
In July 2018, the mall was briefly rebranded as "Midtown DeSoto Square Mall" as part of plans to renovate and expand the mall. However, those plans fell apart,
In October 2018, Sears announced it would close its doors as part of a larger plan to close 142 stores nationwide. This news would be significant for DeSoto Square Mall, as Sears was one of its major anchor stores, having been a part of the mall since its opening in 1973.
DeSoto Square Mall Faces Foreclosure and Bankruptcy, Closes with Only Four Stores Left
In late 2019, Your Treasure House, a retail store and auction house, closed its doors, leaving the former Macy's space vacant again. Following this, it was announced on December 13, 2019, that the former Sears space would be converted into a self-storage facility.
As the mall struggled to keep up with its debts, JCPenney announced its plan to close its DeSoto Square Mall store on October 18, 2020, as part of a nationwide plan to close 154 stores.
This left Hudson's Furniture as the only anchor left. Despite efforts to restructure finances and buy more time, DeSoto Owners LLC filed for bankruptcy before the scheduled foreclosure sale in September 2020.
On April 29, 2021, it was announced that the mall would officially close the next day, April 30, 2021, with only four stores inside. The mall's management company, DeSoto Owners LLC, filed for bankruptcy again in a last-ditch effort to restructure the company's finances. However, the mall's closure would ultimately become inevitable.
Nashville businessman purchases DeSoto Square Mall.
In May 2022, Nashville businessman Charles R. Jones purchased the 58-acre DeSoto Square Mall property for $25.7 million through his company, CRJ Bradenton LLC.
Despite the property's struggles in the past, Jones expressed optimism about the location's potential, telling the Bradenton Herald in an exclusive interview that he sees it as an exciting opportunity. Jones hopes to breathe new life into the mall and turn its fortunes around with this recent acquisition.