The Historical Evolution of University Village
University Village Mall, also known as U-Village, wasn't always the bustling center it is today. It has a rich history that dates back decades. Over the years, it has seen significant changes, adapting to the times and the community's needs.
The mall has evolved to keep up with modern retail trends. It's not just a place to shop; it's a lifestyle destination. This evolution has made it a go-to spot for locals and visitors.
You might wonder, "How did it stay relevant?" Well, it's all about adaptation. The mall has continually updated its retail mix, adding new stores and services to meet the changing demands of consumers.
The mall has also embraced sustainability recently, adding eco-friendly features and practices. This shows a commitment to business and the planet's and its community's well-being.
So, the next time you walk through those doors, remember you're stepping into a place with a rich past. It's not just another mall; it's a part of Seattle's history. It's a place where memories are made, people come together, and the community finds its little world of retail and dining.
A Deep Dive into University Village Mall's Retail Landscape
Now, let's talk about shopping, shall we? The mall is home to a unique mix of stores. There's something for everyone, from high-end brands like Aesop and Apple Store to famous names like Anthropologie.
Recently, the mall welcomed new tenants like Bogey Boys and Credo Beauty. These additions keep the retail landscape fresh and exciting. It's not just about shopping; it's about the experience.
You see, the mall has a strategy. It aims to offer a diverse range of stores that cater to different tastes and needs. So, whether you're into tech, fashion, or beauty, you'll find something piques your interest.
But wait, there's more. The mall also hosts online retailers who have chosen University Village as their first and only physical location in the Pacific Northwest. This adds an exclusive touch to the shopping experience.
So, if you're looking for things to do in Seattle, Washington, don't overlook a visit to University Village. It's not just a shopping destination; it's a retail adventure.
And for those who love to keep up with trends, the mall frequently updates its retail lineup. This ensures you're always in touch with the latest fashion, tech, and lifestyle products.
The Anchor Tenants of University Village Mall: Pillars of Stability and Attraction
Regarding the core of University Village Mall in Seattle, WA, five stores serve as the anchor tenants: Bartell Drugs, Apple Store, Crate & Barrel, The Gap, and Pottery Barn. These stores have been pivotal in shaping the mall's identity and attracting a steady flow of visitors.
Bartell Drugs has been a familiar face in the mall for many years. Established in Seattle in 1890, this store deeply connects with the local community.
Bartell Drugs offers a variety of everyday products, from health and beauty items to household essentials. The store has also been active in hosting health and wellness events, contributing to its role as a community health resource.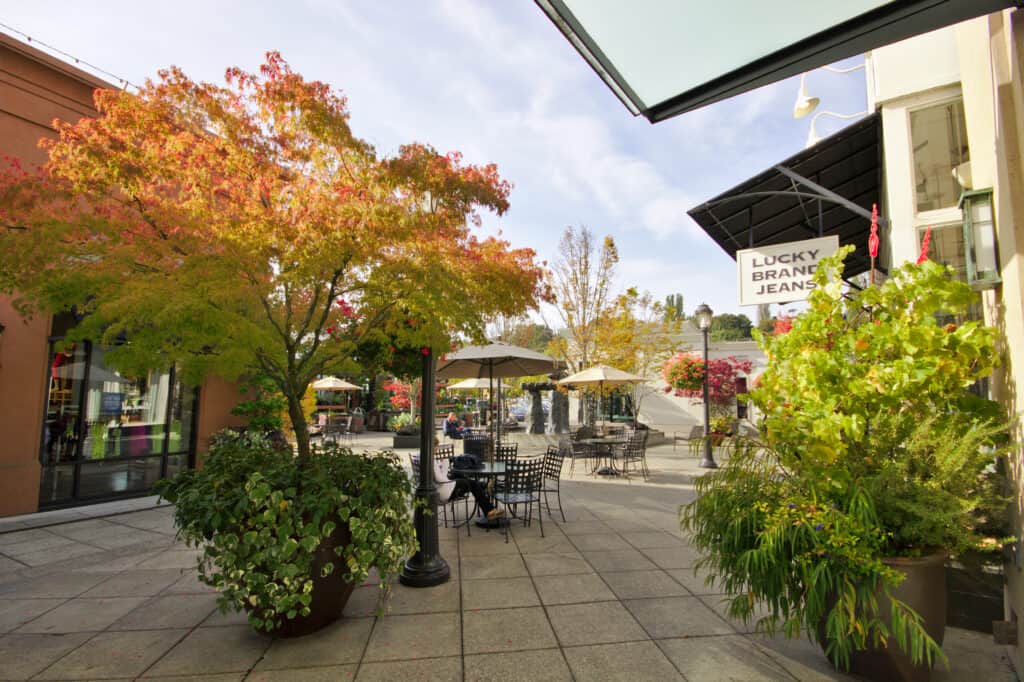 Apple Store opened its doors at University Village Mall in 2003 and quickly became a gathering spot for tech enthusiasts. The store is known for its product launches, which attract crowds interested in the latest Apple innovations. This space serves as a meeting point where technology and consumer interests align.
Crate & Barrel has been a part of the mall since 2003, offering a wide range of home furnishings and decor. The store has gained popularity for its unique collections, often created in collaboration with local artisans. These exclusive collections set Crate & Barrel apart, making it a destination for home improvement enthusiasts.
Gap has been a fixture at the mall since 1995, offering casual, American-style clothing. Over the years, the store has undergone several renovations to improve the shopping experience. The Gap is known for its seasonal sales and fashion shows, adding a dynamic element to its retail presence.
Pottery Barn, present in the mall since 1997, offers upscale home furnishings that range from furniture to kitchenware.
The store aims to provide a comprehensive shopping experience for those looking to enhance their living spaces. Pottery Barn also enriches the shopping experience by hosting interior design workshops.
These anchor tenants contribute to the stability and appeal of University Village. They have been active in hosting events, launching new products, and providing services beyond traditional retail. Their presence and activities are integral to the mall's ongoing success and its role as a lifestyle destination in Seattle, WA.
Beyond Shopping: The Culinary Scene at University Village
Alright, let's shift gears and talk about food. The mall doesn't have a traditional food court, but don't let that fool you. It offers a variety of dining options that go beyond fast food.
The options are endless, from international flavors at Ba Bar to exquisite sushi at Bamboo Sushi. These restaurants use seasonal ingredients, offering menus that change with the seasons.
What sets the mall apart is its focus on quality over quantity. Instead of a crowded food court, you'll find restaurants that offer sit-down meals, complete with cocktail hours. It's a foodie's paradise.
And if you're in a hurry, no worries. Many of these restaurants offer quick bites you can grab on the go, so the mall covers you whether you're out for a leisurely meal or need to refuel while shopping.
But that's not all. The mall also hosts special food events and tastings, allowing you to explore new flavors and cuisines. It's a culinary journey right in the heart of Seattle.
And for those who love coffee or a sweet treat, the mall has cafes and dessert shops perfect for a quick break. From artisanal coffee to gourmet cupcakes, there's something to satisfy every palate.
University Village's Approach to Customer Services
Let's delve into the multifaceted customer service offerings at University Village in Seattle, WA. Bartell Drugs, for instance, is a reliable spot for all your pharmaceutical needs, from prescriptions to over-the-counter medications.
Bright Horizons Child Care is ready to assist if you have children and need a safe and engaging place for them. The facility offers quality childcare services, making it easier for parents to shop or dine without worry.
But the mall doesn't stop at fulfilling basic needs. It also offers specialized services that cater to various aspects of life. Virginia Mason Franciscan Health is available for medical consultations, while Kumon Learning Center provides educational support for children.
Parking is another feature that enhances the customer experience at University Village. The mall offers ample parking spaces, and the clear signage ensures that navigating in and out is hassle-free. This makes your visit to the mall even more convenient.
During the holiday season, the mall adds a few extra touches to make your experience memorable. Gift wrapping services and personal shopping assistance are available to help you manage the holiday rush. These additional services make each visit to University Village a unique and memorable experience.
University Village in the News
In recent times, the mall has made headlines for various reasons. For example, Rivian announced and opened its 'Spaces' location at the mall. This will showcase their electric vehicles, adding a new dimension to the mall's offerings.
But not all the news was good. Recently, a thief who had stolen items worth $23,000 was arrested at the mall. While this raises security concerns, it also shows that the mall is taking steps to ensure the safety of its visitors.
These events do more than make headlines; they impact the mall's reputation. It's a reminder that the mall is a dynamic space, constantly evolving and adapting to new challenges.
And let's not forget the mall also hosts product launches and celebrity visits. These events add a touch of glamour and excitement, making each visit a new experience.
Moreover, the mall proactively addresses any issues, ensuring it remains a safe and enjoyable place for everyone. From enhanced security measures to customer feedback, the mall is always striving to improve.
Special Events and Community Engagement at University Village
Last, let's talk about the mall's role in the community. It's not just a commercial space; it's a social hub. The mall hosts various events to engage with the district, like the "Female Forward" event.
These events allow the mall to give back to the community. From fashion shows to food festivals, these events add a layer of excitement to the regular mall experience.
And it's not just about the significant events. The mall also hosts minor, intimate gatherings, allowing people to connect personally. It's all about building a community around the mall.
So, consider going the next time you hear about an event at University Village. It's a chance to engage with your community while enjoying all the mall offers.
And for those who love social media, the mall is quite active online. From updates on new store openings to special offers, following them on social platforms keeps you in the loop.
Moreover, the mall also collaborates with local artists and musicians, adding a cultural dimension to its community engagement and enriching the local culture.
Conclusion
University Village is more than just a shopping center; it's a lifestyle destination with a rich history. From its diverse retail landscape to its quality dining options, it offers a unique experience that differentiates it from other malls.
And let's not forget its commitment to customer service and community engagement. These aspects make it a vital part of the Seattle community. So, the next time you're looking for something to do, why not visit University Village? You might discover something new.
And remember, the mall is constantly evolving. With new stores, events, and services regularly added, each visit offers something new and exciting.